Hey
comic crew, JT here with my first review of 2013. First I wanna say a few things though, first things first, Happy New Year once again to you all, I hope you had a great holiday and got in some awesome reading, including the Fifth Annual Year End Awards, featuring yours truly for the first time ever. If you haven't checked that out yet, please do so here. Now, for those wondering, yes, X and I swapped days so my reviews will be up today, Sunday and Tuesday. Now that all that stuff is out of the way, let's get to the review.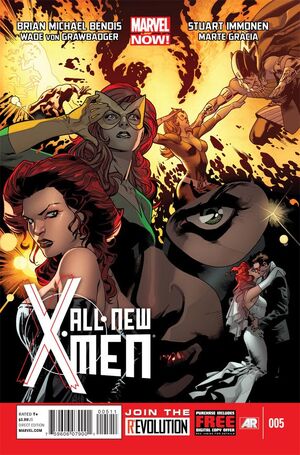 Summary:
The last issue left off with Beast going into cardiac arrest, so we start this one off with Original X-Men Jean Grey and Hank McCoy inside the mind of Beast. Beast looks like his first transformation instead of his bad ass second one, I guess that's how he thinks of himself now. Jean is wearing her Marvel Girl costume because that's his favorite costume of hers, I'd hate to see how she looks in Wolverine's mind... Anyway, while in Beast's mind, Hank looks over Beast's formula's for trying to keep himself from dying due to his transformation and he notices a mistake Beast made and he has a plan on how to save him. When Hank leaves Beast's mind to concentrate, Jean asks Beast how she died, to which he comments "Which time?"She asks to see his memories and after a bit of back and forth he obliges, allowing her to see everything including her skimpy "Black Queen" costume (I think I found Wolverine's avatar for her...) as well as her as the Phoenix, her marrying Scott and her kissing Logan. From there we see Cyclops recruit another mutant, Benjamin from the last issue, who's powers are kinda like a chameleon, or Rogue without the touching. Benjamin is weary but Cyclops says give him a chance and if he doesn't like the school or Cyclops, he's free to go. Ben agrees and cyclops takes him to the new Charles Xavier School for the Gifted. Back at the Jean Grey school, Wolverine, the big man on campus is threatening a young Cyclops, saying he should just kill him now which would prevent him from ever killing Xavier... I'm not gonna mention all the other things he would undo that Scott did, like saving Logan time and time again but whatever. Anyway, this is calmed down by Beast, who has undergone another transformation that makes him look kinda like a furry blue version of the Hulk villain Abomination. He tells the students thanks for their help and hopefully showing Scott how far he's strayed from his younger self but they should go back home, to which Jean says they aren't leaving until they know they've helped, considering if they go back Xavier will mind wipe them and they'll forget about what Scott will end up doing. The group takes a vote and with the exception of Warren, they all decide to stay, and since the group majority wins, he has to stay as well. Warren also starts to wonder why he's seen every one of the O5 in the future but himself, and wonders why they aren't even mentioning him. Kitty agrees to watch over the O5 in respects for Xavier as she wants to help out more, so they agree to follow her lead. The issue comes to a close as Scott asks Jean to talk to him and she walks off telling him to leave her alone.
Thoughts:
This series continues to be awesome, and this was another big step in character development. Now some things did bother me, like the fact Wolverine was threatening to kill Cyclops, an innocent version of him that is. Now, if you wanna kill Scott, go find him, you're the best at what you do, it shouldn't be hard to find him and kill him, but don't threaten to kill a younger, innocent version of him in front of your student body for something he hasn't even done yet. That bothered me, and the same goes for Jean. You can't get upset at someone for shit they haven't done yet. I get that there are certain exceptions to the rule, but for a guy that honestly wants to do better and is literally in shock at what he becomes, blowing him off now isn't gonna help not make him a jerk in the future... Anyway, that stuff aside this was a good issue, I'm enjoying seeing the O5 interact, considering Scott now knows who he becomes, Hank helped himself stay alive, Jean knows her future and we're only five issues in. I'm excited to see some development for Warren and Bobby as well, especially Bobby since he's coming off as more annoying than funny at this point, but overall I enjoyed this issue and I look forward to seeing what the O5 do next.
Score:
7.5/10
Wolverine: If I get how this works, I can kill him now and Charles Xavier will be standing right over there.

(I don't...think you get how it works, Logan...)