Here we go!!! What more is there to say except Fear Itself #1 came out today? Needless to say that comic was the FIRST thing I read after getting home today, so let's stop wasting time and get to it!
Fear Itself #1(of 7): Summary:
We get started with Steve Rogers and Sharon Carter getting stuck in the middle of a riot in Manhattan. Eventually order is restored and later on Steve is disappointed to learn that there were no super-villains behind the riot, it was just people on opposite sides of an issue. From there Iron Man tells Steve that the best way to allay the fears of the people of the US was to build, so he pitches a rebuilding project in Broxton, Oklahoma, to repair Asgard, which was destroyed after the Siege event. The scene shifts to Sin, who has managed to find the location of the magic hammer that Red Skull called down from the heavens during WWII, but was unable to lift. Sin is confident that she can lift the hammer, because she saw it happen in her dreams, and sure enough, she does lift it and is transformed into a being called Skadi, who is intent on finding her father. The Avengers head to Broxton and hold a press conference laying out their intentions with regard to Asgard, while Odin angrily watches from high above(with the Watcher), disgusted that his son Thor would stand with the mortals. Thor senses Odin's presence and heads into the ruins of Asgard to see him, which leads to Odin attacking Thor for allowing the Asgardians to become dependent on humans. Odin demands Thor to choose between his fellow gods and humanity, and Thor choses humanity, disgusting Odin further and causing him to sulk away. Skadi swims deep into the oceans of the Pacific and finds a sealed tomb, breaking into it to discover her father, an elderly figure calling himself the true All-Father, referring to Odin as a usurper. Skadi and this All-Father travel to the surface of the water and the All-Father raises his hand, sending several projectiles(hammers?) crashing down to Earth. The Avengers and Asgardians get together and have a feast(Odin is naturally not present), and Odin senses the return of this other All-Father. Odin marches into the banquet hall and tells the Asgardians they would be leaving Earth immediately, giving no reason why. Thor finally has enough of his father's antics and attacks, but Odin simply takes Mjolnir away from Thor and then batters his son, telling the other Asgardians to collect Thor and prepare to evacuate the earthly dimension. With that, the Asgardians take Thor, and the Avengers are left pondering just what was about to happen.
Thoughts:
Well, this wasn't exactly as good as I was hoping... The initial few pages didn't really seem to fit into the story... I mean what was the purpose of the riot in NYC? It ultimately led to Iron Man deciding to rebuild Asgard in Oklahoma, which was supposed to appease the people in NYC I guess? Um, how? The mystery of Skadi and this other All-Father looked interesting, as did Odin's kind of crazy antics. I especially enjoyed Odin bitching out the Watcher, who simply turned his back on Odin. I guess the bottom line here is that I was expecting more... Sure, we have our villain(s) of the piece(Skadi/All-Father), and the Asgardian gods have left Earth, leaving the denizens of Earth to have to fend for themselves against this new threat, but that was it. Nothing really memorable happened here, and for a huge event issue, I kind of expected to read something that would have me frothing at the mouth anticipating the next issue. While I'm excited to see where things go next issue, I have to admit, my excitement for this event has diminished slightly after reading this one.
Score:

7 1/2
out of 10.
Oh Odin... You so crazy!
Fear Itself: The Home Front #1(of 7): Summary:
4 stories here, the first two are multi-parters, while the last two are one-shot deals. Story one deals with Speedball going in disguise to help a foundation in Stamford, Connecticut. He does a mess of good deeds, but is eventually found out and the people at the foundation attack him. The second story is about Jimmy Woo and his Atlas Foundation looking into Neo-Nazi groups. Story three has J. Jonah Jameson blaming super-heroes for the riot in NYC seen in Fear Itself #1, and the last story talks about how the people in Broxton, Oklahoma have been getting by.
Thoughts:
Gah, what the flaming hell was this?! When the best story was a one page deal about J. Jonah Jameson, there are problems... Big problems... I was hoping after Civil War ended Marvel would stop with the over-politicization of its comics, but alas, that doesn't seem to be the case. I'm tired of the stupid Stamford thing, I'm tired of hearing about the Registration Act, and the sooner Marvel gets the hell away from all of that stupid crap, the better.
Score:

4 1/2
out of 10.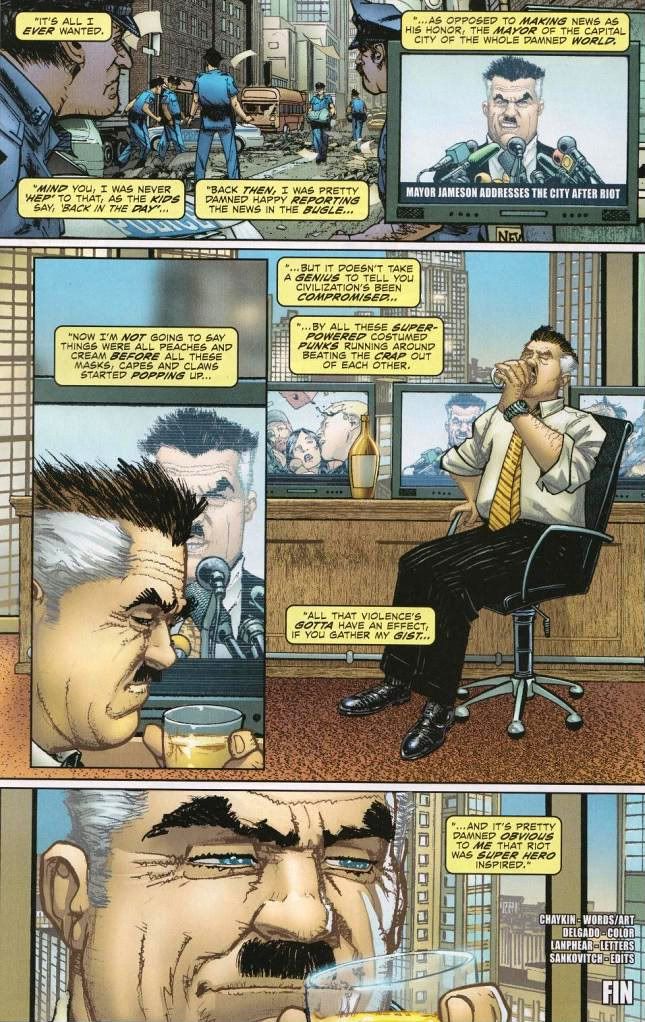 Sadly, THIS was the highpoint of this entire issue...