We're going the DC route for this post, with the FINAL issue of Batman: Streets of Gotham, as well as the latest issue of Zatanna, both written by Paul Dini... Huh, I JUST realized that Dini wrote both of these... Creepy...
Batman: Streets of Gotham #21: Summary:
We kick this issue off with Hush finishing up his betrayal of Dr. Death before shooting that mobster he'd been working with, Judson Pierce. From there Hush locks the two men in a room and prepares to flood Wayne Tower with a deadly array of gases, at least until he realizes that all of his henchmen were unconscious. Before he can figure out who did the deed, he gets conked over the head by the Wayne Tower employee he kidnapped, an employee who turns out to be Jane Doe in disguise. The near dead Pierce manages to wake Dr. Death up, and Death manages to mix some chemicals that blow the door to their room open. Unfortunately for Pierce, the chemicals begin to eat away at his skin while Death makes his escape. Hush wakes up tied to a chair with Jane Doe cutting his face off in order to masquerade as Bruce Wayne(remember, Hush had given himself plastic surgery to look like Bruce). Jane affixes Hush's face to her head and prepares to kill him when Batman(Bruce Wayne for this issue) drops in and knocks Jane out. From there we learn that Dr. Death's chemicals had somehow enhanced Pierce's strength, while deforming him greatly in the process. Needless to say, Pierce still wants to kill Bruce. Finally, we find Hush with his face covered in bandages, trying to convince doctors at Arkham Asylum that Bruce Wayne and Batman were the same man.
Thoughts:
Meh. As a huge fan of Hush, I can't say I liked this storyline at all... What happened to the master villain who could fight both Bruce Wayne and Dick Grayson to a standstill all while concocting all sorts of deathtraps? I mean poor Hush... His credibility as a villain has just been going downhill since his first couple of appearances in that awesome Hush storyline by Jeph Loeb and Jim Lee... Now he's locked in Arkham, AS Dr. Tomas Elliot, where nobody believes a word he says. At least most of the other times he's lost he managed to evade capture. This time he gets squashed by Jane Freaking Doe, gets his face cut off and gets locked in Arkham... Maybe he and Jason Todd can talk about the good old days when they were both meaningful Batman villains...
Score:

5 1/2
out of 10.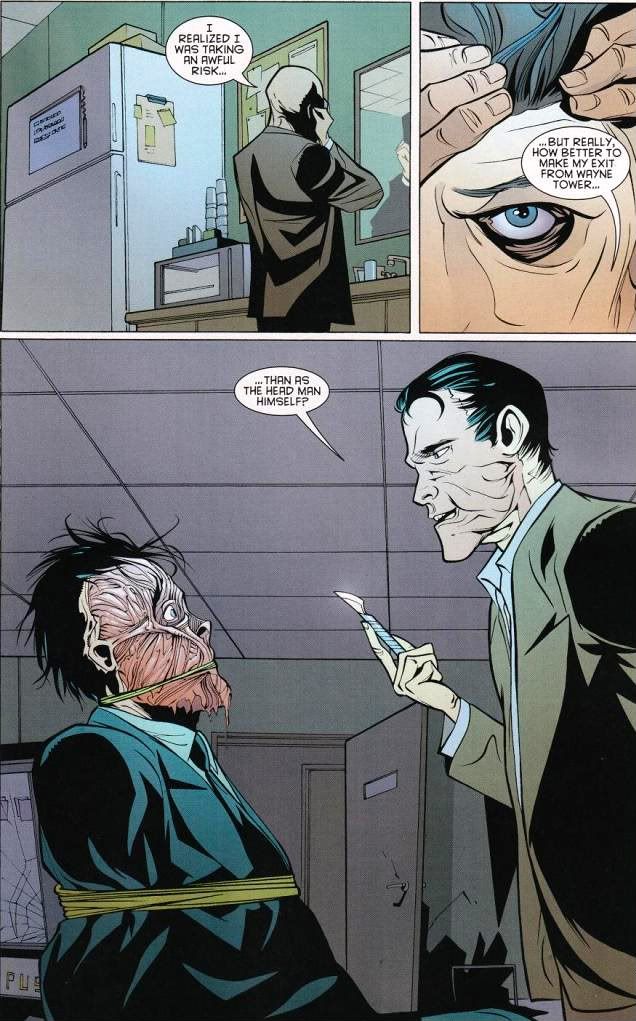 Life really sucks for Hush.
Zatanna #11: Summary:
We get this one started with Oscar Hampel preparing to seal Zatanna(who's a puppet now) in a puppet case in a magic museum. Yeah, that's a pretty sucky fate if I do say so myself. Before he does though, he decides to take a break in his dressing room since he had a TV performance that night. He gets a knock at the door and find a scantily clad make-up woman, who wants to get him ready for his performance. Oscar happily lets her in and she smothers him with some chloroform. It turns out the make-up woman was one of Zatanna's assistants, and had been tracking Oscar since she figured out he had turned Z into a puppet... Ooookay. Z's assistant then TELLS Zatanna EXACTLY how she figured out what had happened, in detail(!), giving Oscar enough time to wake up and attack. Oscar tries to turn the assistant into a puppet too, but unfortunately for him, the assistant came prepared and was under a spell that would reverse any spells sent her way. Needless to say, Oscar turns back into a puppet, Zatanna turns back to normal, and this one ends with Zatanna locking Oscar the puppet in a giant milk can.
Thoughts:
Wow, this... really wasn't all that good... On the bright side we learn that Brother Night had woken up and was back up to his old tricks again, but everything else about this issue was pretty bad. I mean why would Z's assistant spend FOUR pages telling her how she found her?! Shouldn't she have been more interested in trying to, oh I don't know, turn Zatanna back to normal before anything else?! It just seemed to odd(and incredibly dumb!) for Z(as a puppet) and her assistant to stand around shooting the breeze while the bad guy slowly recuperated. If I was ever turned into a puppet, my first thought would be turning back to normal, not finding out how my assistant located me, but I guess that's why I'm not Zatanna...
Score:

6
out of 10.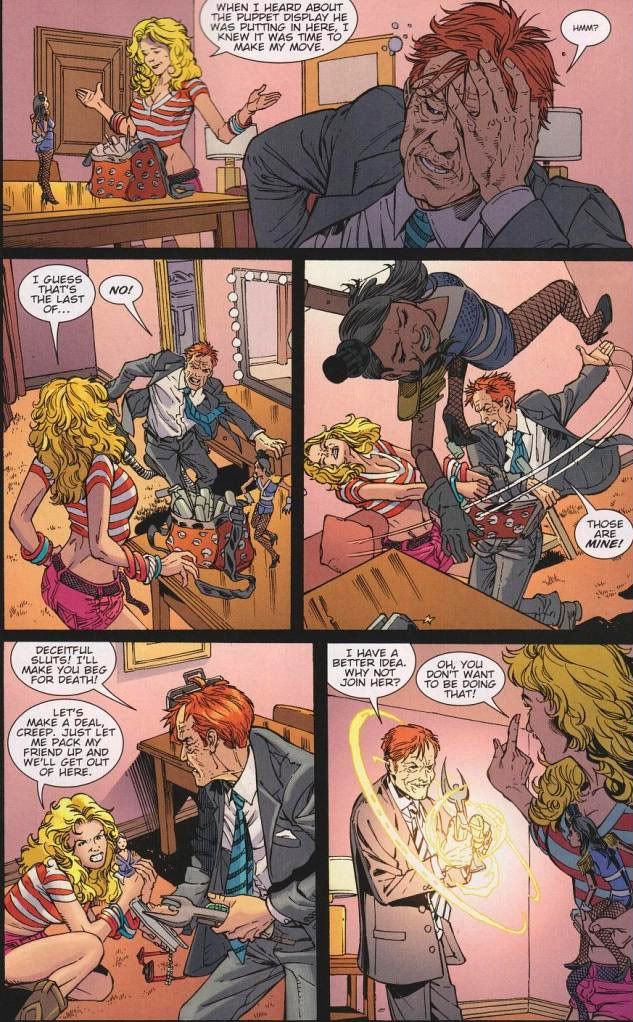 Sure, just ignore the bad guy in the corner...