We take a break from the one company theme I had going the past couple of reviews, as I take a look at comics from both Marvel and DC, both coincidentally featuring female leads. This review is also notable because it's probably the last Wonder Woman comic I plan on reading in quite some time, as this issue was the last for my subscription, and with how absolutely abysmal J. Michael Straczynski's WW run has been, I just can't reason spending money on this series. Oh, speaking of DC and sucky stories, I was planning on reading/reviewing Green Lantern Corps #58 and Emerald Warriors #8, but I just can't bring myself to read another story from the "brain" of Chairman Johns. So yeah, don't expect to see me review ANY of the War of the Green Lanterns tripe.
X-23 #8: Summary:
X-23 and her Gal Friday, Gambit finally arrive in Madripoor to find Daken, who they believe knows where Malcolm Colcord(who is trying to restart the Weapon X program for the umpteenth time) is. X-23 is able to locate Daken almost immediately, but spots some goons trying to kidnap a child off the street and has to ditch Daken to save the kid. Gambit manages to find Tyger Tiger, who tells him that she had been forced to work for Daken. Since Tyger hates Daken and all, she agrees to help X-23 and Gambit trick Daken into meeting with them. To that end, Tyger has the two meet her in her office the following day, where they demand to see Daken, and she dutifully protects Daken. After X-23 and Gambit leave, Daken comes out of a hold in the wall(?!) and is intrigued enough by X-23's claims that she was Wolverine's clone to go to meet X-23 and Gambit. Daken locates the duo at a restaurant, and refuses to believe X-23's claim, at least until she pops her claws, which angers Daken, and provokes him to attack. Gambit naturally gets knocked out early on(MAN has he become such a damsel in distress lately!), leading to X-23 and Daken battling across the rooftops of Madripoor as this issue ends.
Thoughts:
First things first, when did it become common knowledge that Daken and Colcord were working together? I mean I thought it just suddenly happened in the last issue of Daken, but it seems that it's a well known fact or something now... Weird. As for the story here, I liked it. It's hard to screw up a comic that was leading up to an X-23/Daken fight, and this comic gave me what I expected. I'm not exactly sure where the story goes from here(I guess Colcord betrays Daken? Or maybe vice-versa?), but I was pretty happy with the first part of this x-over, which continues in the next issue of Daken: Dark Wolverine.
Score:

8
out of 10.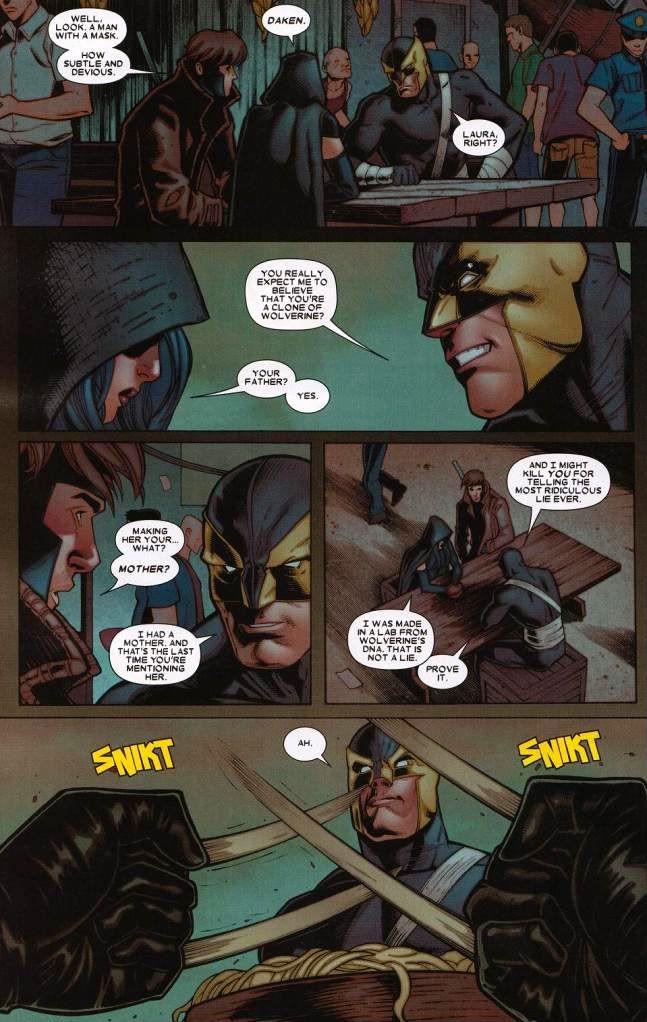 Gambit's one to talk, what with that trenchcoat he's always wearing!
Wonder Woman #609: Summary:
Dr. Psycho takes Wonder Woman: The Teenage Amazon on a journey through WW's mind and shows her several different versions of WW throughout history, eventually getting to the real WW that we all knew and loved. Psycho tells WW she has to choose which Wonder Woman she wants to be before leaving her alone with her thoughts. WW treks through her mind, walking past several different versions of herself before stopping and choosing one. This issue ends with a nurse with the last name of Prince(who looks quite a bit like WW), calling a doctor to look at the patient who just woke up, a patient who looks like Wonder Woman.
Thoughts:
You know, the beginning of this comic actually grabbed my attention. I liked Psycho's little trip through WW's mind, and the various different versions of WW were kind of interesting. Now don't get me wrong, I don't know what the hell any of it meant, but it did manage to hold my attention, so there's that. The end was a straight-up confusing mess, but, and I hate to say it, I am a bit intrigued to see just what this all meant. Which means I'll be picking up issue #610... Dammit!
Score:

6 1/2
out of 10.
Hey, this all looks vaguely familiar...