Hey Todd Squad, JT with my third review of the week, everyone's favorite archer (especially since DC took Ollie and gave us a generic, boring, wanna-be Clint Barton) Hawkeye! Hawkeye's been amazing lately so enough of this intro, let's get to the review!
Hawkeye #6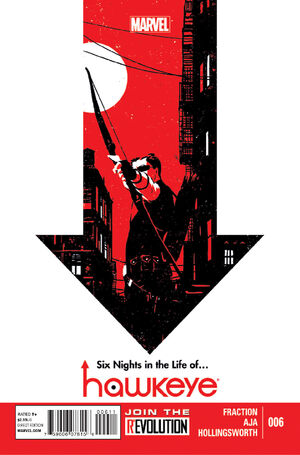 Summary:
This issue time jumps around a bit, so if ya read it, make sure you pay attention or you'll be confused. The gist of the story Clint needs to get the cable fixed, because the Dish is malfunctioning for a tenant due to an arrow being in it, thanks to Clint, and her kids want to watch some annual Christmas special. The cable guy refuses to fix it because it's on a fire escape, it's snowing, and he's fat, outta shape and lazy...his words, not mine. Also Clint is confronted by the "Bro's" from a few issues back, and they're pissed at Clint for buying the building he lives in, getting the boss' wife out of town, and other Broski type reasons of enragement, so they jump Clint, take him to an abandoned building, telling him he has 24 hours to get out of town or they'll kill everyone in his building. Clint decides to leave, and has a bow sent to Kate by one of his tenants that happens to be a bike messenger. Before he can leave town, Kate comes to him and tells him he needs to stop trying to leave, he's a hero and he needs to act like it. Clint takes her advice and takes the Bro's on, which we don't see, but he clearly won since he is still there later, allowing the Tenant and her kids to watch the holiday specials with him, as the issue comes to a close.
Thoughts:
This was a filler issue, and a holiday issue. Yet, it was still really good. I laughed a lot throughout this issue, the scenes with Stark, the "Hawkguy" scene, and the Bro's... just them saying "Bro" and "Futz" cracks me up. But this was also a great issue because it showed how vital Kate is to Clint, who was willing to pack up to keep everyone safe, but was willing to fight to maintain their safety, thanks to a few words from Kate. All in all, this was an issue you can miss, but if you did pick it up, you're guaranteed to enjoy it.
Score:
8.5/10
Tenant: Don't gotta pretend you ain't Hawkguy 'round us, Hawkguy.