Normally I get all depressed and pissy when I know I have to read and review an issue of Brightest Day, but I've FINALLY figured out a way to solve that dilemma! Instead of sticking the latest issue of Brightest Day at the bottom of my comic pile and then feeling that sense of dread and disappointment build up over the course of the week as I grow closer and closer to it, I've decided to simply read this garbage first and get it out of the way. It's like ripping a band-aid off quickly as opposed to slowly pulling it off over the course of a week or two. Not only that, but once I'm done with this review, I plan on reading the third volume of the mind-blowingly great Y: The Last Man as a way to rid my mind of the mental anguish that I'm sure this comic will inflict upon me. As always, I'll be reviewing this using Brightest Day rules. That means I start reading this comic figuring it'll be the worst thing I've ever read, and adding or subtracting points as I see things I like or dislike. Will this comic finish above or below 0?!? Let's get started and find out!
Brightest Day #21(of ∞ + 390,986): Summary:
We get started with the Atom wondering where his good buddy Hawkman went. From there we head to... REALLY?!? Goddamn Saint Barry Allen and an assortment of DC heroes clearing the beach where Aquaman battled last issue. Goddamn Saint Barry begins to talk, so I begin to turn pages rapidly. The scene switches to Mars, meaning I can begin reading again! I'm not really sure if that's a good thing or a bad thing though... Anyway, the Martian Manhunter is mad at D'Kay, the evil female green Martian. They yell and fight for a while until MM gets a mental flash from Earth(all the way from Mars?!?) of people feeling widespread panic. MM decides to help the people of Earth by flying into the sun to kill both himself and D'Kay... Well I have to say, that plan has some major holes in it! For some reason committing suicide was what MM needed to do to satisfy That Damned White Lantern, so it brings him back to life(AGAIN!), and MM heads to Earth to save people and stuff. Aliveman then appears before MM and That Damned White Ring decides to dissolve MM into the Earth, killing him(I guess)... AGAIN!!!
Thoughts:
I honestly think I just lost several braincells just by reading this! What the HELL has happened to Chairman Johns?!? I mean he used to be far and away one of the best three comic writers out there. Now he's like... number 58 or so. I know that Peter Tomasi also has a hand writing this mess, but we ALL know who the mastermind is. *sigh* Let's get to the scoring, which I suspect will be VERY low... We start this one off with the OLD Atom, which automatically makes me deduct -3 points in the memory of Ryan Choi. And then Goddamn Saint Barry shows up, thus costing this issue -25 points. AND THEN Goddamn Saint Barry talks, costing this comic another -25 points. However, since Goddamn Saint Barry only appeared on two pages, I'll add +2 points. Oh, and another -15 points for Superman saying, "If Hal was here--"... Are you serious?! You have Batman, Cyborg, Mr. Terrific, and several other super-smart DC characters standing around and Superman is wishing HAL THE GREAT was there?!? Is Chairman Johns THAT in love with HAL THE GREAT that he has to at least MENTION him in every comic he writes now?! Good God... Moving on, I'll give the fight on Mars a 0, because I could care less about it one way or the other. -2 for the Martian Manhunter killing himself to defeat D'Kay... Was suicide the ONLY thing he could come up with to beat D'Kay?!? -3 for That Damned White Lantern bringing MM back to life after he offed himself... I mean should he REALLY be rewarded for committing suicide? Finally a -5 for That Damned White Ring killing MM RIGHT AFTER it brought him back to life! How does that make any sense at all?! I'm simply astonished by just how bad a comic this was. I mean literally astonished. I actually sat back when I was done reading this and was stunned by the utter stupidity of it all... Well, all that's left to do is add up the score. At least I can be POSITIVE that everything I read for the rest of the week HAS to be better than this was!
Score:

-76
out of 10. Well, it appears Brightest Day's streak of positive scores ended at a rather impressive 1 issue... Next issue: Goddamn Saint Barry takes command of the heroes! Superman begs the gods above to return HAL THE GREAT to Earth! Firestorm dies, then comes back to life, then dies, then comes back to life, then is split into two Firestorms, they both end up dying, at which point they return to life in one body again, and then they die again!!! Smell the excitement!!!!!!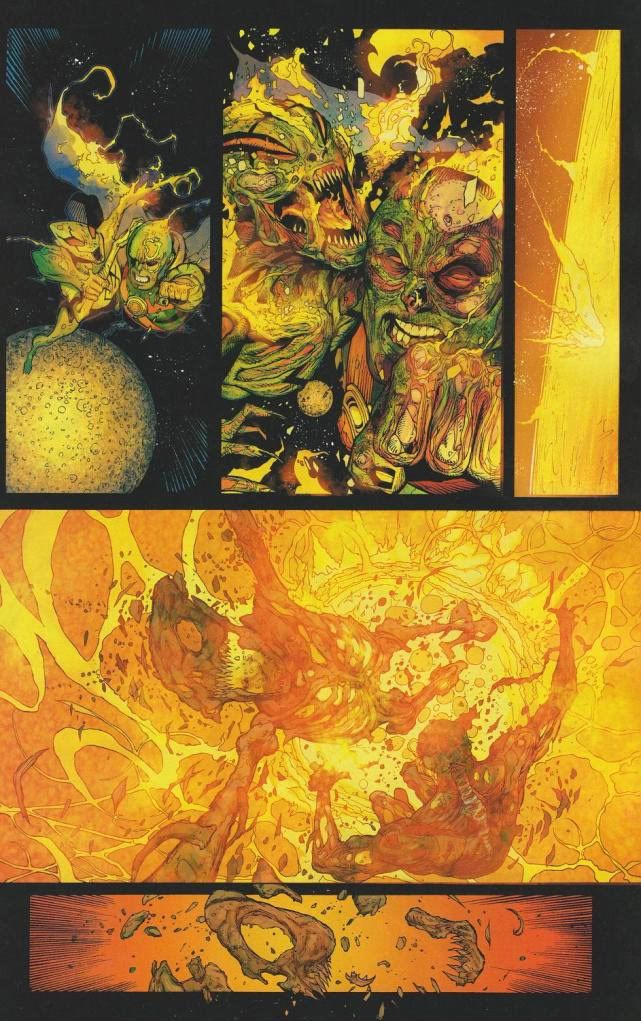 Oh no! The Martian Manhunter has died! Don't worry though, he'll be back by the next page. Although he's just going to wind up dying again...