One more "10 Thoughts on..." post before the weekend is finished. I'm kind of leaning towards saving these "10 Thoughts" posts for the weekends and doing my regular reviews during the week. Of course that plan can, and almost definitely will change, but that's the current plan. We'll see just how long I decide to stick with it.
Fables, Volume 1: Legends in Exile.
Collecting Fables #1-5
-First, it's quick origin time! It seems that assorted Fairy Tales characters(and not the G-rated, Disney-fied versions either) had their lands and kingdoms conquered by some mysterious Adversary character. By the time the Fable's characters realized just what a threat the Adversary posed, it was too late as he had amassed too much power. With no recourse, the Fables characters were forced to go into hiding in the regular world, or as they call it, the Mundane World. Since not sticking together is what screwed them over in the first place, they've decided to a) stick together in Fabletown, a small section of New York City, and b) NEVER reveal who/what they truly were to any of the Mundanes(regular folks).
-Man, Snow White really came across as a bit of a witch early on in this one! Who'd have thunk it?
-And then you had Prince Charming, Snow White's ex-husband, who is the very definition of the word man-whore!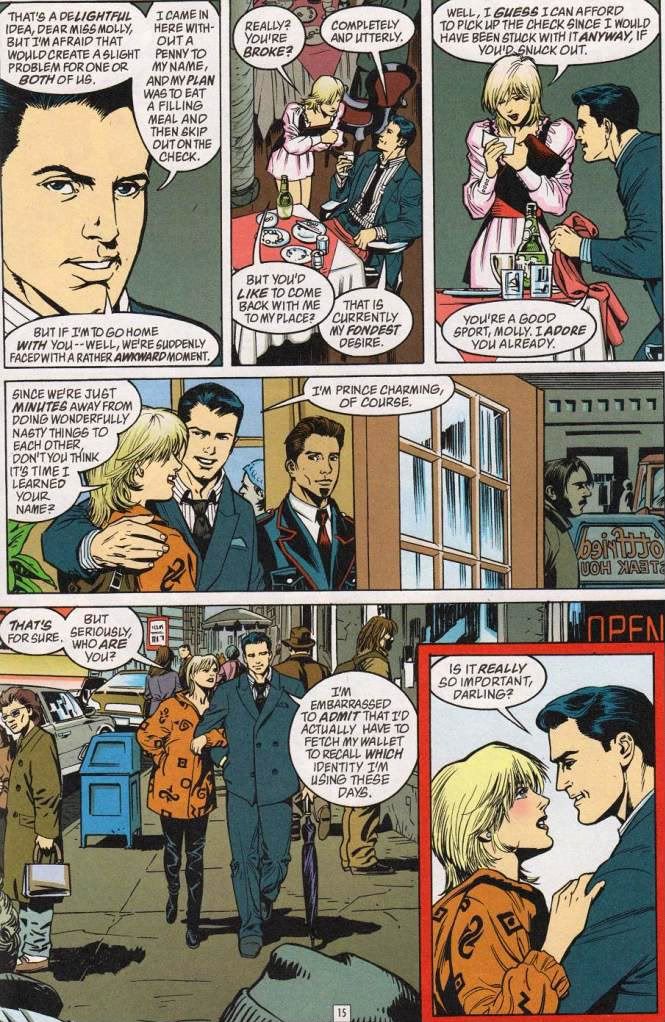 Man, Prince Charming is a real ass!
-Besides meeting a few of the main characters in Fabletown, this trade centered around trying to figure out what happened to/who killed Rose Red(Snow White's sister). Rose Red's boyfriend, Jack(of Jack and the Beanstalk fame) alerts the town's sheriff, the Big Bad Wolf of the crime, and the Wolf scopes out the VERY gory apartment shared by Red and Jack.
-As the Wolf goes through with his investigation, he meets with Bluebeard, who seems to be one of the richer members of the Fable community. During the interview, the Wolf learns that Bluebeard was actually engaged to Red, but that the engagement was secret, and wasn't to be revealed until a year after the engagement occurred. This naturally makes Bluebeard a suspect since his whole thing is to marry and then kill his wives on their wedding night.
-Bluebeard points the finger of blame at Jack, since Bluebeard had nothing to gain in killing Red, and lost a rather fat dowry paid to Red as well.
Bluebeard and Jack, NOT the best of friends.
-Yeah, so while this whole whodunit mystery was going on, I have to admit, Pinocchio made me laugh pretty hard...
What can I possibly add to that?!
-During some huge meeting where all of the Fables character meet up once a year to touch base, the Wolf reveals he solved the mystery, telling the gathered that Red(with help from Jack) had faked her death. And he proves this by pulling a wig off of Red herself! Basically Red wanted Bluebeard's money so Jack could do some stupid get rich quick scheme, and figured she could pay Bluebeard off before the time to marry came up. With the time of the marriage fast approaching, and no money in sight, Red and Jack figured the way to go was to fake her death so she wouldn't have to go through with the marriage.
-Snow White screwing Prince Charming(who slept with Red a few years back) out of a ton of money he thought he'd acquired was pretty funny, and totally deserved.
-If I had one gripe with this trade, it was that so many characters were introduced! Snow White, King Cole, The Wolf, Boy Blue, Beauty and the Beast, Jack, Rose Red, Prince Charming, Bluebeard, and so on and so forth. There were times when I'd be sitting there trying to remember who was what to who, and what each character was currently doing.
Score:

8 1/2
out of 10. I really enjoyed the whole whodunit murder mystery that was the focal point of this trade. It was fun trying to figure out the mystery along with the Wolf(and yes, my guess of Bluebeard was wrong), and I really liked the way Bill Willingham had the Wolf spell out EXACTLY how and why Red and Jack did what they did. I wasn't expecting to enjoy this comic(I mean it's about fairy tale characters!), but once you realized this wasn't the cartoonish version of those characters, but rather the darker, pre-Disney versions, I was able to get into this story rather quickly. This was a good opening arc, and I figure as I read more and get more acquainted with the characters, I'll enjoy each passing trade more and more.