Well, I've put it off for over a week now. I think it's high time I finally got this over with. Yes X-Maniacs, it's time for... *shudder* my Brightest Day review... As most of you know, I hate everything about Brightest Day. Everything! But although I hate Brightest Day, I do enjoy doing reviews for it... It's always fun to tear something you can't stand to pieces and my Brightest Day reviews have become cathartic to me. Go figure. Besides the Brightest Day review, I'm also going to review the most recent issue of Green Lantern, or as it's better known as; Chairman Johns' love letter to... well himself. Since I now passionately hate everything written by our beloved Chairman, I'll be scoring BOTH of these comics using Brightest Day Rules. For the uninitiated, When I score something using Brightest Day Rules I figure whatever I'll be reading will be the WORST thing I have EVER read, and as such start the comic out at a 0. If things I enjoy happen(say Saint Barry Allen getting beheaded), I add points to the score. If bad/dumb/nonsensical things happen(like Aquaman crying over his lopped off hand), I deduct points. Makes sense to me! One more thing, if you're a DC fanboy, a fan of Chairman Johns or Geoff Johns himself, you should stop reading now. Seriously, you won't like this review! Then again, if you ARE Chairman Johns keep reading... Okay, enough with the intro, let's commence the mental torture!!!
Brightest Day #20(of ∞): Summary:
It's an all-Aquaman BONANZA!!! Aqualad prevents Black Manta from killing Sad Aquaman, so Manta decides to kill Aqualad for his transgression. Unfortunately for Manta(but fortunately for DC's animation department), Mera and Aquagirl... um, 3? 4? 8? Oh I don't know... Let's just say the current Aquagirl arrive on the scene to deal with Manta and his EVIL Atlantian allies. Aqualad cauterizes Sad Aquaman's boo-boo and Sad Aquaman takes the battle to the EVIL Atlantians. Mera realizes that since there were only 4 good guys and 100 bad guys they PROBABLY wouldn't be able to win the battle(now that's good, logical thinking!), so she creates a giant wave to drag the EVIL Atlantians back into the ocean. The Aqua-family follows suit and somehow Aqualad opens a portal back to the Bermuda Triangle and sends the EVIL Atlantians, as well as that cad Black Manta back to their prison. The Aquas are happy at this sudden, and completely out of the blue turn of events and celebrate. Or at least they do until Aliveman shows up and That Damned White Ring kills Sad Aquaman. Kills him good!
Thoughts:
Okay, what do we have here... First off, +3 for DC actually dedicating the ENTIRE issue to one story! I don't know about anyone else, but I'd rather read one linear story as opposed to 31 different stories in the same comic. +2 for Manta trying to kill Aqualad, because that's what a good arch-enemy SHOULD do! -1 for the all too obvious eventual Aqualad/Aquagirl relationship... If you wanted a Aqualad/Aquagirl relationship, DC, then you shouldn't have killed off the Garth and Tula!!! -1 for Black Manta claiming he "gutted" Aquababy... That's not even CLOSE to the truth! -2 for Sad Aquaman crying AGAIN! What the hell is up with him?!? +3 for Sad Aquaman sending a horde of dead sea life after the EVIL Atlantians, because let's face it, NOBODY wants to be eaten by a dead shark. +1 for Sad Aquaman kissing Mera, because that's another pic for my other blog! And -1 for Sad Aquaman not getting a chance to cry at the end of when That Damned White Ring killed him... I mean crying is his gimmick now! How does he die and not get to unleash a torrent of waterworks?! So after some addition and subtraction we get a final score of...
Score:

4
out of 10. Hey, that's a HUGE improvement over last issue's -356! Good job!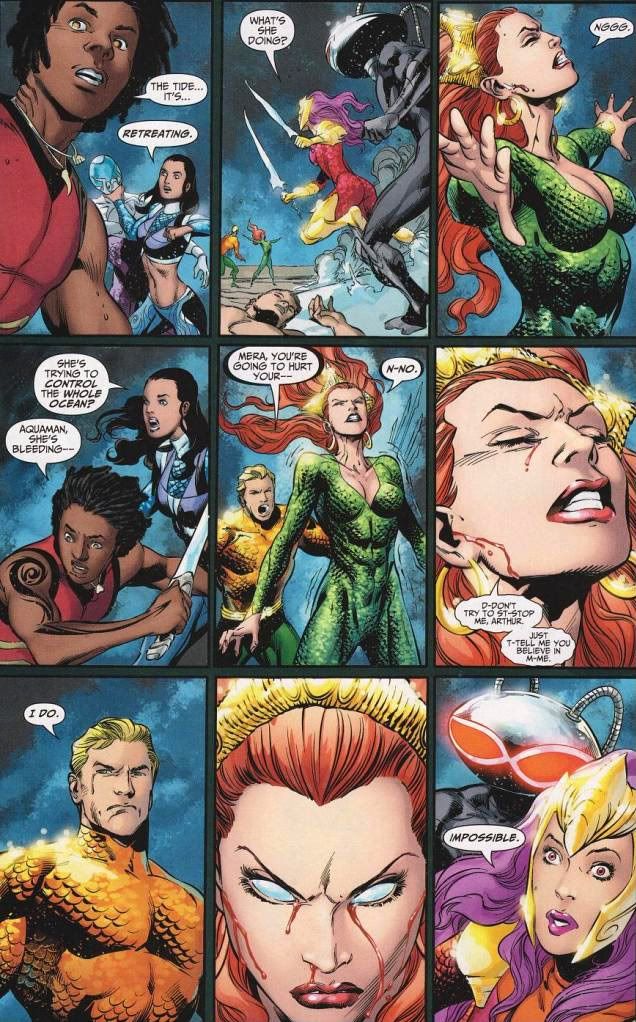 Look! He's crying again!!!
Green Lantern #62:
It's written by our Lord and Savior, Chairman Johns, so it MUST be good!!!
Summary:
Krona attacks Hal Jordan The Great or as he's better known as, "He Who Has Never Done Anything Wrong Because He Was Possessed, Dammit!!!" to start this train wreck out. During Hal The Great and Krona's battle we get some snippets of who Krona is and what his major malfunction is. Eventually Krona gets the better of Hal The Great, but not before Hal The Great gets a good shot in on Krona because he's, you know, Great. The other members of the Lite-Brite Brigade(ROLL CALL!!! Saint Walker! Larfleeze! Indigo-1! Atrocitus!) attack Krona but get their asses handed to them, which makes sense since Krona controls the entities that power the members of the Lite-Brite Brigade... Gee, maybe they should have realized that... Anyway, Krona manages to steal the Rage entity away from Atrocitus, which gives him the full collection of Lite-Brite entities. Krona blasts the Lite-Briters into unconsciousness and leaves, at which time we get a glimpse into the future(um, why?) where it appears one of the Green Lanterns of the Earth sector dies... Grr... Anyway, Hal wakes up, blows off Saint Barry, Batman and Superman and decides to leave Earth with his Lite-Brite Brigade buddies to hunt down Krona and... um, let's say give Krona a severe scolding when they find him.
Thoughts:
God help me I HATE this series! I mean hate it with every fiber of my being! If I were to run out of toilet paper THIS would be the first thing I bring into the bathroom with me! Thankfully I only have one or two more issues of this garbage left on my subscription before I can turn my back on this series forever. Forever!!! Well, let's get the scoring done so I can burn this comic book... Right off the bat a -1 because Hal Jordan was in this comic. Continuing along those lines we'll give a -25 because of Saint Barry was here. I will give a +5 for Hal telling Saint Barry not to run because it was so funny... I mean Hal, I don't know if you realize this, but running(and screwing over Wally West) is all Saint Barry can do! -2 for Hal actually injuring Krona because it made NO SENSE! How the hell can you harm a Guardian of the Universe with a GL ring?! Not only that, but how can you harm Krona with willpower when he controls the Ion entity?!? Dumb. -5 for Larfleeze appearing, but a +2 for Hector Hammond tearing into the minds of Hal and the Lite-Brite Brigade, just because it caused Hal pain. +10 for Krona knocking all of the useless members of the Lite-Brite Brigade out. -10 for Larfleeze talking, but +20 for Batman calling Hal out for being an asshole. And finally, -50 for Hal stating the he was possessed by Parallax... No Chairman Johns, Hal WASN'T possessed by Parallax. He went insane and became a villain NAMED Parallax. Retcon it all you want, I'll NEVER accept it. Jesus, what an ass Geoff Johns must be to crap all over the work of other writers just to push his(and Dan Didio's) personal favorite characters at the expense of everything that had been done. I hope like HELL that 20 years from now some writer just retcons EVERYTHING Johns has done these past 10 years because that would be SO fitting. Let's get the math work done so I can end this post and read a comic that is actually good...
Score:

-56
out of 10. The second lowest score I've ever given a comic book. And you know what? It sure as hell deserved it.
I had to pick some page from this comic, I might as well pick this one.